Bizarro fiction books often use high-concept ideas, which help grab the interest of potential readers.
Marvel Comics is currently doing the same thing. You may be familiar with DC's New 52 where they cancelled all of their comics, got rid of all continuity (well, nearly all) and started fresh, and came out with fifty-two new comics that all started with issue 1 (some comics were previously existing titles and some were entirely new).
Now Marvel is following in their footsteps with Marvel Now, which is slightly different because they're not changing continuity. Also, a few titles were saved from cancellation. Basically, all the new titles got (or are getting) a new creative team and most of them are using a high-concept idea. Also, unlike the New 52, a few new titles begin each month rather than starting all at once. The Amazing Spider-Man is one that is getting the axe (after 700 issues)
So I'm going to give a quick overview of the high-concept titles. Some don't really work as high concept unless you're already familiar with Marvel stuff. I mention writers more than artists because I'm more of a "writer guy."
All-New X-Men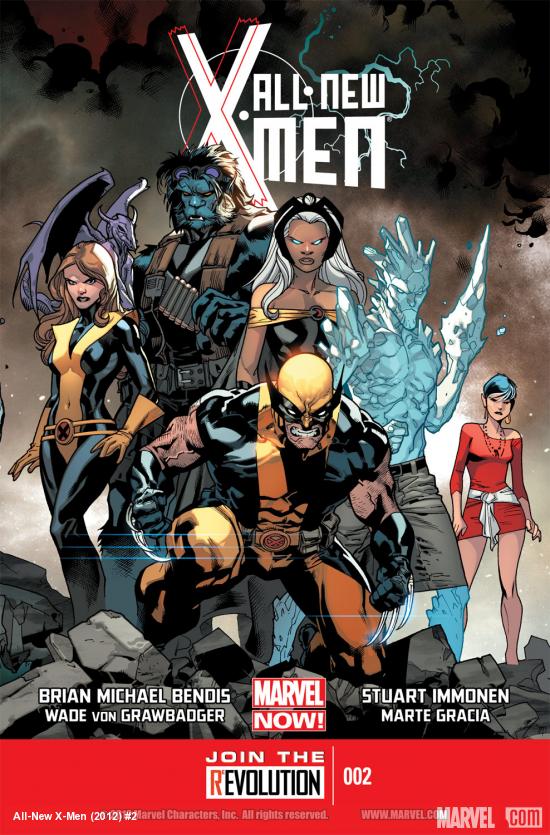 I'm a big fan of writer, Brian Michael Bendis. A few issues have been released so far and this is my favorite Marvel Now series so far (so I'll describe it in a little more detail than the rest).
This is what it's about: Cyclops is now evil, sort of. Like Magneto-evil, although Magneto has been a good guy for a while, although no longer. Now he's chilling with Cyclops and doing sort of evil stuff with other sort of evil mutants who used to be the good guys. Did I mention who Cyclops murdered? I probably shouldn't mention who.
Basically, suddenly tons of people have mutant powers whereas previously there were less than 200 mutants. The new mutants are accidentally fucking up shit because they can't control their powers, so cops and soldiers want to kill them. So Cyclops and his gang are swooping in and saving the new mutants with extreme violence.
The Beast is all like, "If Cyclops from the past could see himself now, he would hate himself." So then he travels back in time to when Stan Lee was writing the X-Men comic in the sixties and recruits the original X-Men to take down Cyclops and his Brotherhood of Evil Mutants.
Uncanny Avengers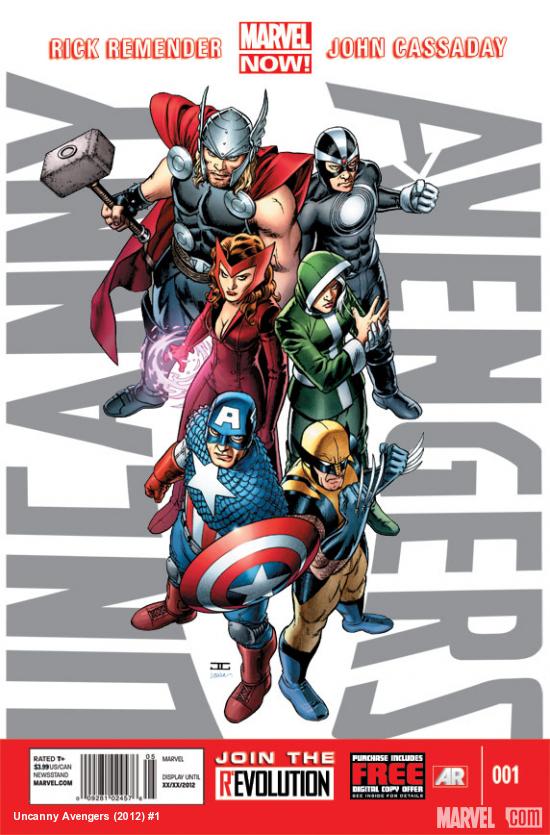 What if the Avengers and the X-Men were combined into the same superhero team?
Well, Wolverine was already an Avenger, but the rest weren't.
The comic is written by Rick Remender. I've never been crazy about his writing, but it's been pretty decent so far. Also, John Cassaday does the art and he's pretty great. The comic seems "important," as if it what happens in it will have a strong impact on Marvel's other titles.
Captain America
What if Captain America got trapped in a crazy alternate dimension that's all science fiction-y?
Seems to have a John Carter of Mars vibe to it.
It's also written by Remender. I've only read the first issue. Didn't care for it.
Having Captain America trapped in another dimension while simultaneously appearing in other titles, where he isn't trapped, is a good example of twisted Marvel comic logic. It seems like he's been appearing in almost every title since the Avengers movie came out.
Avengers Arena
What if the Avengers were the characters in Battle Royale (or The Hunger Games)? You know, they have to compete against each other. Winner is the last person alive. The prize is their life.
Obviously Marvel can't actually kill off the Avengers because too many characters would need to come back from the dead. But if they kill off characters that are less significant, like teenagers who are training to be Avengers (and are also the same age as the characters from the books who inspired this comic), they don't have to bring them back from the dead.
Indestructible Hulk
What if S.H.I.E.L.D. recruited the Hulk to work for them as an agent?
(In case you don't know, S.H.I.E.L.D. is Marvel's version of the C.I.A.)
Punisher War Zone
What if the Avengers decided they weren't cool with the Punisher running around and murdering criminals anymore?
(This is a limited series, not a continuing series.)
Deadpool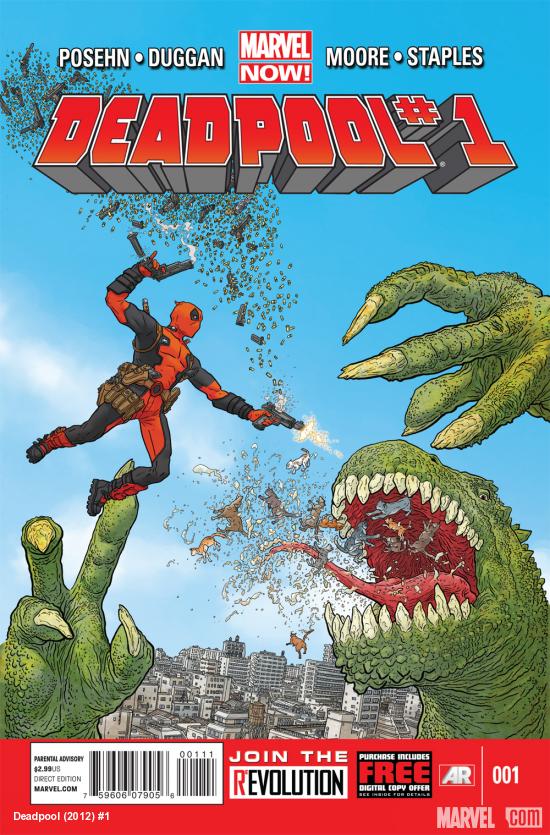 What if America's dead presidents start coming back to life with superpowers and totally evil? It would probably look pretty bad if a guy like Captain America beat the crap out of an undead Abraham Lincoln. So S.H.I.E.L.D. decides to recruit a total dick to take care of their dead president problem: Deadpool.
It's co-written by comedians, Brian Posehn and Gerry Duggan.
The Avengers
What if the first issue hints that it's going to be a high-concept title and makes it seem like it's a really big deal but doesn't actually give the concept yet?
Still, it's definitely worth checking out because it's written by Jonathan Hickman. I've been reading his issue of Fantastic Four recently and they are FANTASTIC.
Thunderbolts
What if the Marvel universe's most marketable anti-heroes were recruited for the same team?
(Deadpool, Punisher, Electra, Venom, Red Hulk)
Is the Red Hulk marketable? I'm not familiar enough with him. He's Thunderbolt Ross: army general, the Hulk's father-in-law (although I don't think Bruce Banner is married anymore), one of the Hulk's most significant antagonists over the years. He probably stopped being an antagonist when he started being a hulk (his daughter is a hulk now too, and she's also red).
The first issue was fun. Steve Dillon, of Preacher fame, did the art.
And then there are a few new titles that aren't really high concept:
Iron Man
The writer says, "If you were given the chance to reinvent humans into any other form, what would you do with it? In those first five issues, it allows me in each to show a different take on it."
Basically, a bunch of different bad guys buy a technovirus in an auction. The virus reinvents humans. Iron Man decides to take them down.
Fantastic Four and FF
Both titles are written by Matt Fraction, who is one of my favorites. Mike Allred, of Madman fame, does the art on FF. He's also one of my favorites and has a pop art style.
In Fantastic Four, Mister Fantastic discovers that the cosmic radiation that gave him and his family their powers is now killing them. He decides to bring them on a trip through time and space in order to discover the cure. He keeps the "killing them" thing secret, so he tells them it's an educational journey for their kids.
As far as FF, the team is only going to be gone for 4 minutes because of time travel kind of stuff. But what if something goes wrong? So they recruit four heroes to take their place while they're gone. I expect something to go wrong.
Thor: God of Thunder
A bad guy is killing gods. Thor has battled him before: when he was younger before he had his hammer. He also battles him in the future when he's old and grey. So the narrative switches between the past, present, and future and does a good job at it. It's also written by Jason Aaron, who writes Wolverine & the X-Men, which is one of my favorite comics.
So unless I missed something (with the exception of X-Men Legacy/Cable and X-Force), those are all the new titles so far. There will be more debuting in the future.